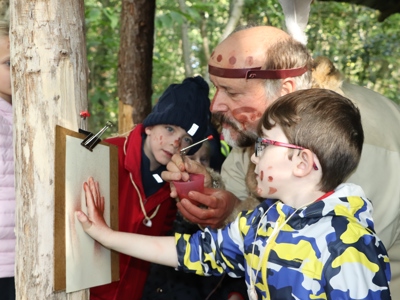 Welcome to Education at Wildwood Kent. As one of the leading British animal conservation charities in the UK, we are at the forefront of pioneering conservation projects, making us an invaluable place to visit to learn about conservation, animals and the natural world.
We offer engaging workshops linked to the national curriculum, educational tours and animal focus talks for a wide range of groups and ages. Or, immerse yourself in authentic historical experiences during our Living History and Blean Bison sessions.
Set in 40 acres of ancient woodland, Wildwood is an excellent place to practice woodland ecology techniques such as invertebrate and plant sampling and small mammal trapping.
We also have an outreach programme which allows us to bring conservation into your classroom. GCSE, A-level and IB groups can join us at the beach to collect data using practical rocky shore and sand dune sampling techniques.
For more information, just click the relevant section below.
To speak to a member of our Education team and book a group visit, call us on 01227 937451 or email education@wildwoodtrust.org.
"The teaching sessions were fantastic. They were well planned and engaging, pitched at the appropriate age for our children. A lot of time and effort had gone into the sessions and they provided a great learning experience for our children." – Charlotte, Herne Infant School

"Our young people learnt a huge amount about species reintroduction, the history of species in Britain and biodiversity sampling in Blean Woods, including use of certain instruments for the first time." – Omar, Action For Conservation

"The best thing about school trips to Wildwood is having the opportunity to visit the outdoors and learn with hands-on experience. This trip will enhance our learning opportunities, especially our science curriculum." – Nicky, Wayfield Primary

"The workshop was so engaging and fun, the staff were so knowledgeable and great with the SEN kids." - Crawley Home Education group

"The workshop was excellent. All children were engaged. Age appropriate, fun tasks for them to complete. They learnt a lot and so did the adults! Thank you!" - St Gregorys

"The tour combined connecting with nature and wildlife for wellbeing with positive conservation stories. Wildwood is an excellent conservation centre offering these unique opportunities to inspire people from all backgrounds, across university courses, through connection." - Canterbury Christ Church University
Sign up here to receive our newsletter
;