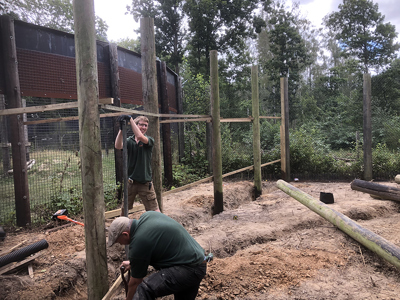 Wildwood Kent prepares for a 'beary' special arrival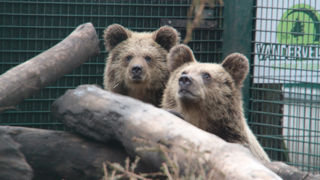 Thanks to herculean fundraising efforts from Wildwood supporters and animal lovers around the world, the British wildlife charity is completing work on the new home and welcoming the two bear cubs this month.
Accompanied by a specialist team from Wildwood, the cubs, brother and sister, Mish and Lucy, will travel to their new home in the Kent countryside to settle into life in the UK before the winter arrives.
Their new home will encourage natural behaviours and help them learn how to 'be bears', under the watchful eye of Wildwood's expert animal team.
Their new home includes a water feature, climbing towers and plenty of opportunities for them to explore, play and forage, all behaviours they would have learned in the wild.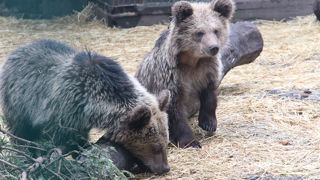 Earlier this year, Wildwood launched an urgent fundraising campaign to help rescue Mish and Lucy, who have been living in a temporary home in Belgium since being found abandoned and alone in a snowdrift in the Albanian mountains.
After being rescued from certain death by the team at Albanian Wildlife Rescue when their mother did not return to them, the bears are now set to embark on the next leg of the rescue mission, accompanied by Wildwood's internationally renowned bear rehabilitation experts.
In 2014, Wildwood successfully rescued two bears, Fluff and Scruff, from appalling conditions at an abandoned hunting facility in Bulgaria. The team brought them to the Kent Park and helped them to recover and thrive – they now spend their days splashing about in their pool, happy and healthy, a far cry from when they were discovered.
It is hoped that Mish and Lucy will do the same before moving to their permanent home, a huge woodland area as close to their natural habitat as possible, at Wildwood Escot, in rural Devon, in 2021.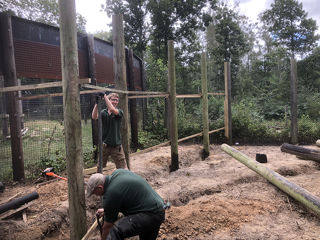 Wildwood's Head of Living Collections, Mark Habben said: "We're so excited to welcome Mish and Lucy to Wildwood Kent and help them to settle into their new life in the UK. Just like Fluff and Scruff before them, they've had a traumatic start and deserve to feel safe and happy, able to grow and learn together, in the sanctuary of their new home. We can't wait to get them here to see them exploring their fantastic new home."
Wildwood Trust has currently raised more than £35,000 to help Mish and Lucy in their race for survival, but still has a long way to go to meet the £250,000 target.
Donations can be made on the campaign website https://chuffed.org/project/mish-and-lucy or by calling the donation hotline: 01227 712111.
Paul Whitfield, Director General of Wildwood Trust said: "The Eurasian brown bears are an amazing species; they give us a glimpse into the rich history of Britain's wildlife when bears would have lived alongside people. We're thrilled that Mish and Lucy will be settled into their new home with us before Winter and can't thank people enough for their generous donations and support. These bear cubs deserve the best possible future and with your help, we can give it to them."
Sign up here to receive our newsletter
;