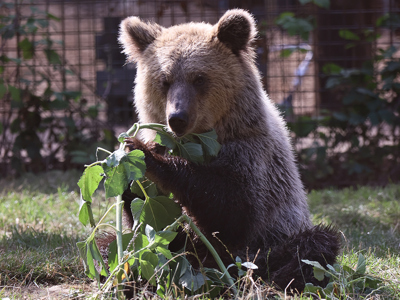 Orphaned bear cubs arrive at Wildwood Kent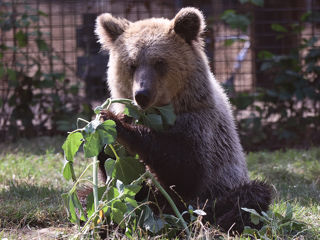 Leading British wildlife conservation charity, Wildwood Trust, has welcomed a pair of rescued orphaned bear cubs who are starting their new life in the Kent countryside this summer.
Mish and Lucy made the trip from their temporary home in Belgium on Tuesday 18th August and were taken in to be cared for by Wildwood's world-renowned team of bear rehabilitation experts.
They arrived at the popular wildlife park just outside Canterbury and immediately settled into their new home, putting their best paws forward and exploring their water feature, climbing towers and den area.
Their new home has been specially created to offer them plenty of opportunities to explore, play and forage under the watchful eye of Wildwood's expert animal team, all behaviours they would have learned in the wild.
After being found abandoned in the wilderness in Albania at only a few weeks old, the cubs were rescued from certain death by the team at Albanian Wildlife Rescue when their mother did not return to them.
Their mother had most likely fled the disturbance of illegal loggers or poachers; the cubs were too young to survive on their own and sadly could not be returned to the wild.
Their story is not uncommon. As wildlife struggles not only in the UK but all around Europe due to habitat loss, climate change and many other factors, Mish and Lucy were extremely lucky to be discovered and rescued just in time.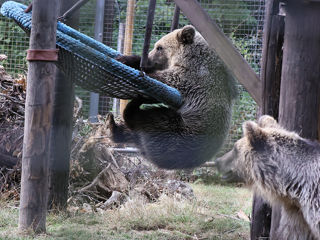 Kent is the first leg of the journey to the cubs' forever home as they will move to Wildwood's sister park, Escot in the Devon countryside in 2021.
Mish and Lucy have a great home at Kent for their first winter in the UK thanks to herculean fundraising efforts from Wildwood supporters and animal lovers around the world, but the rescue mission is not over.
Vital funds are still needed to build their new forever home at Escot. With more than £200k still to raise, Wildwood has launched a crowdfunding campaign in the hopes that the public will play a role in giving the best possible future.
Paul Whitfield, Wildwood Trust's Director General said, "We're so excited to welcome Mish and Lucy to Wildwood Kent and to give them a bright future after their traumatic start. This is the next part of the cubs story but it doesn't end here. From our experience working with Fluff and Scruff, the bears we rescued in 2014, we know we can offer a rich and stimulating home for Mish and Lucy, with the help of our fantastic supporters."
Visitors are already able to see the bear cubs as they explore their new temporary Kent home and display all the wonderful antics of these youngsters.
It is the mission of Wildwood Trust to preserve British wildlife and teach people about its extraordinary value. The charity hopes to someday see species such as lynx, wolves and potentially brown bears reintroduced to British wilder places, through the idea of rewilding nature.
Donations can be made on the campaign website or by calling the donation hotline: 01227 712111.
Sign up here to receive our newsletter
;