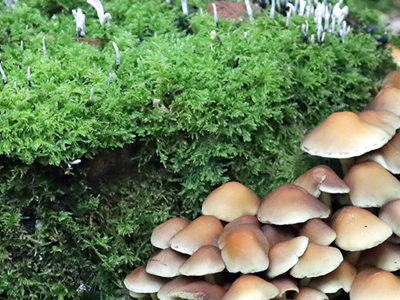 A new way to look at your favourite woodland discovery park.
As well as our fantastic display collection, the natural woodland setting of Wildwood supports a host of free-living wildlife. Did you know, for instance, that over 60 species of wild birds are regularly seen at Wildwood?
A dozen types of wild mammals live in the woods or pass through on a regular basis; there are four kinds of cool reptiles and all sorts of invertebrates, including over 20 beautiful butterflies. In addition, there are wonderful woodland wild flowers, a diversity of native trees and an assortment of fascinating fungi.
Throughout the year we shall be keeping an eye on them all, with nestbox and bird feeder cameras, guided nature walks and trails, talks and events that will link you to the changes to wild, wild Wildwood throughout the seasons. As you walk around the park, look out for wild things for yourselves – from woodpeckers to wood mice, from teasels to weasels, from treecreepers to trees – and add them to our sightings board by our admissions building.
Wildwood Watch events are held during school holidays. Keep an eye on our news page for events and stories.
Wildwood Watch stories
10 December 2019 – Wildwood's bird feeders
5 February 2020 – Wild weasel at Wildwood
30 March 2020 – Colours to dye for
19 May 2020 – All Your Eggs in One Basket
12 June 2020 – Wildwood's Mini Re-wilding
26 April 2021 – Greys versus Crows
20 October 2021 – I spied a spider
Sign up here to receive our newsletter
;